1. Aurélie and Angelo 4. Atlantic Pacific 2. Trendy Crew 3. NuSophisticate
Continue reading...
High-low hems always catch my eye, but they never look the way I want them to. During the heat wave we had a couple of weeks ago I tried out a new dress that I found when I was looking for something to wear to my friend's wedding. Turns out, I loved it! I'm not even going to say how many times I've worn it since then…
Dress – Free People // Sandals – Ancient Greek Sandals (similar) // Necklace – Gift (similar)
Photos by Julia Ralston
1. Friday was epic. I went to the Morris-Jumel Mansion for The Loves of Aaron Burr: Portraits in Corsetry and Binding; the Metropolitan Museum of Art for Punk: Chaos to Couture and Impressionism, Fashion and Modernity (I liked the latter more than the former); AND to the Prada SoHo store to see costumes from the Great Gatsby on display. I also got lost in Central Park and walked 14 blocks south instead of walking a few blocks east.
2. Saturday I went to one of my favorite spots in all of New York City – the Highline! I love the concept – how they turned an old, elevated railway into a beautiful, elevated park. It's so elegantly and expertly landscaped, and provides a beautiful way to observe the city. This statue is from a series called "Busted", and was used with "modern printing processes" including 3D scanning!
3. The whole reason I came to New York – for a friend's wedding! I love getting together with my college friends, and what better excuse than a wedding?!
Outfit #1: Skirt – Stella Jean // Top – American Apparel // Espadrilles – J. Crew // Necklace – Mira Mira // Bracelet – Stella & Dot
Outfit #2: Dress – Ace & Jig (via Mira Mira) (similar) // Shoes – TOMS (similar) // Necklace – Mira Mira
Outfit #3: Dress – Anthropologie (only available in petite online, but check your local store!) // Shoes – Diane Von Furstenberg // Lipstick – Givenchy Le Rouge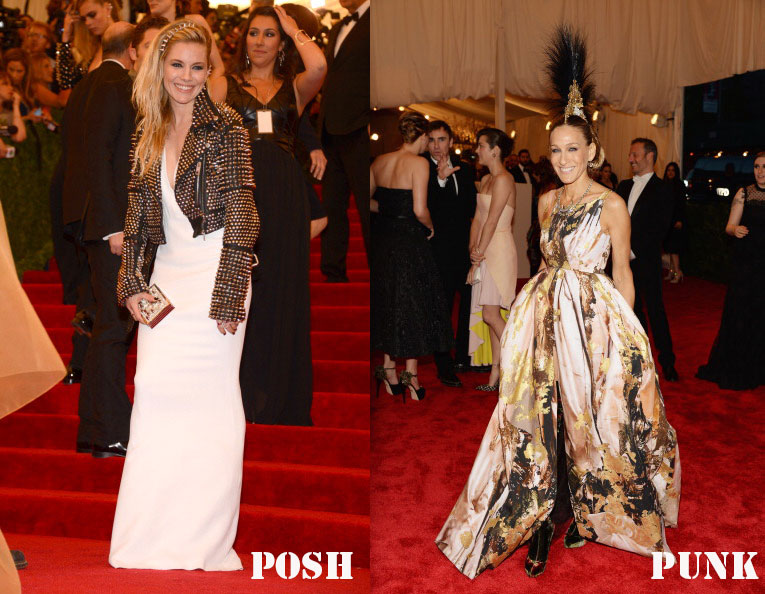 POSH: Sienna Miller in Burberry
PUNK: Sarah Jessica Parker in Giles (and a Philip Treacy mohawk)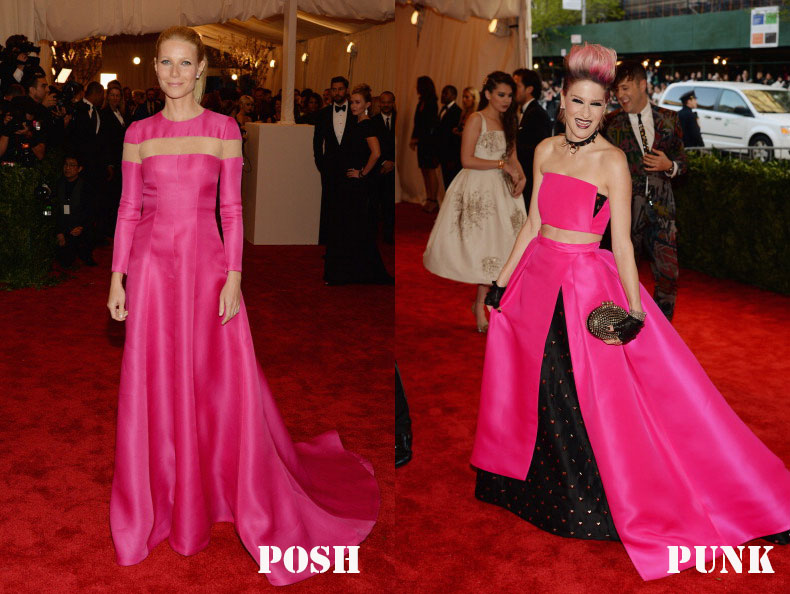 POSH: Gywneth Paltrow in Valentino
PUNK: Julie Macklowe in Zang Toi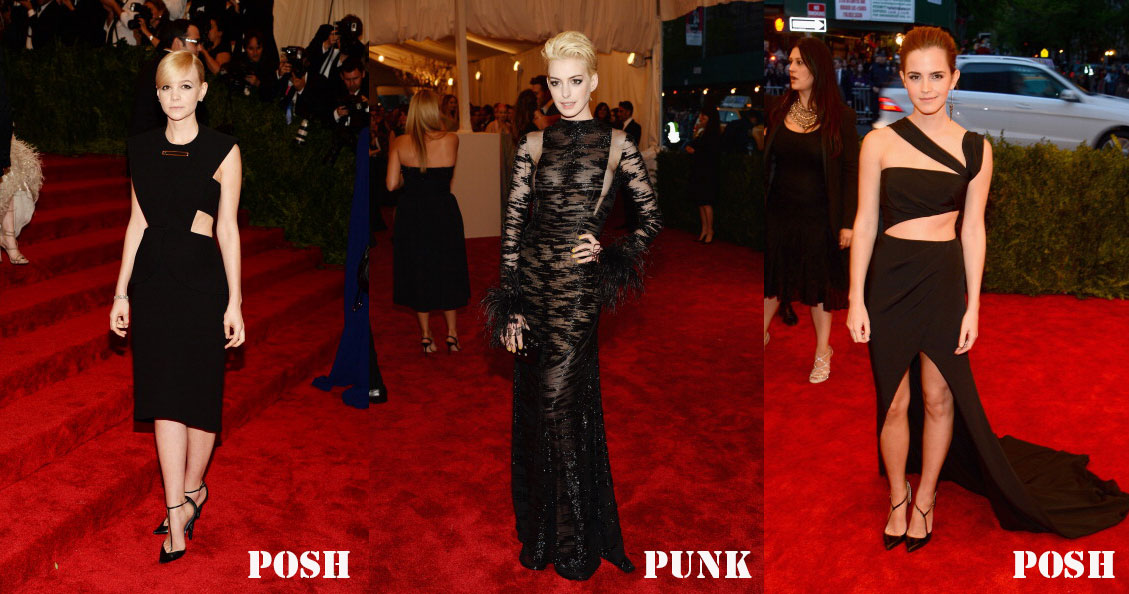 POSH: Carey Mulligan in Balenciaga
PUNK: Anne Hathaway in vintage Valentino
POSH: Emma Watson in Prabal Gurung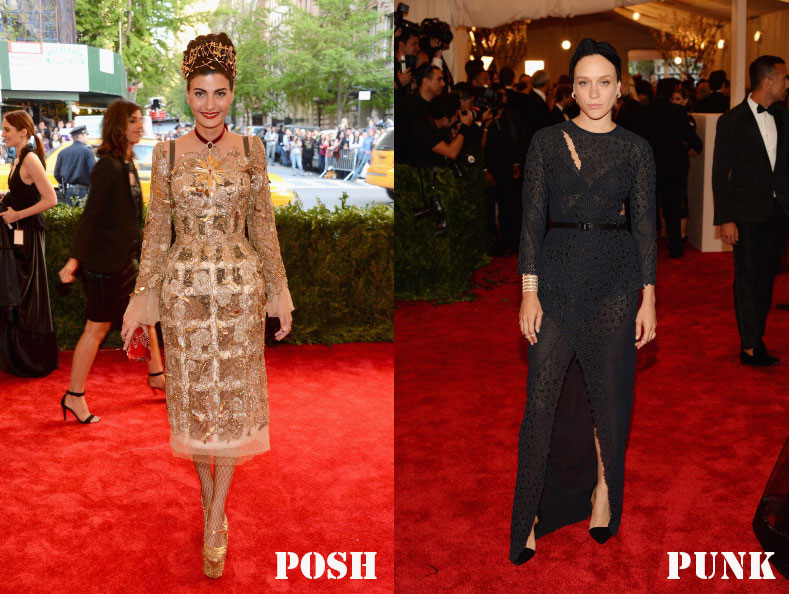 POSH: Giovanna Battaglia in Dolce & Gabbana
PUNK: Chloé Sevigny in Proenza Schouler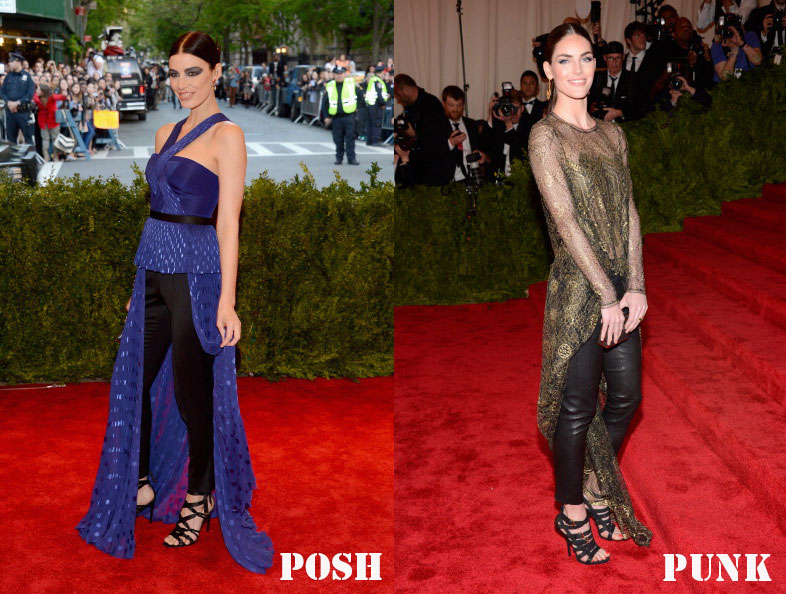 POSH: Jessica Pare in Jason Wu
PUNK: Hilary Rhoda in Wes Gordon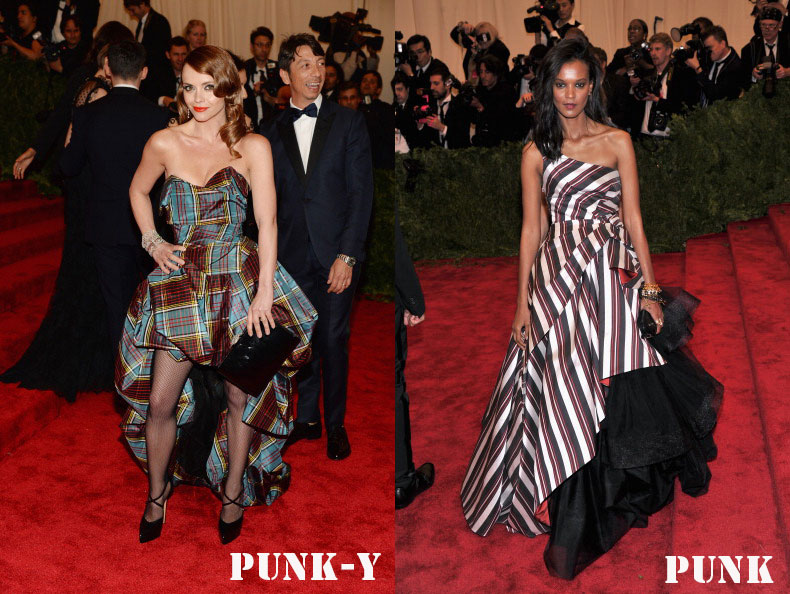 PUNK-Y: Christina Ricci
PUNK: Liya Kebede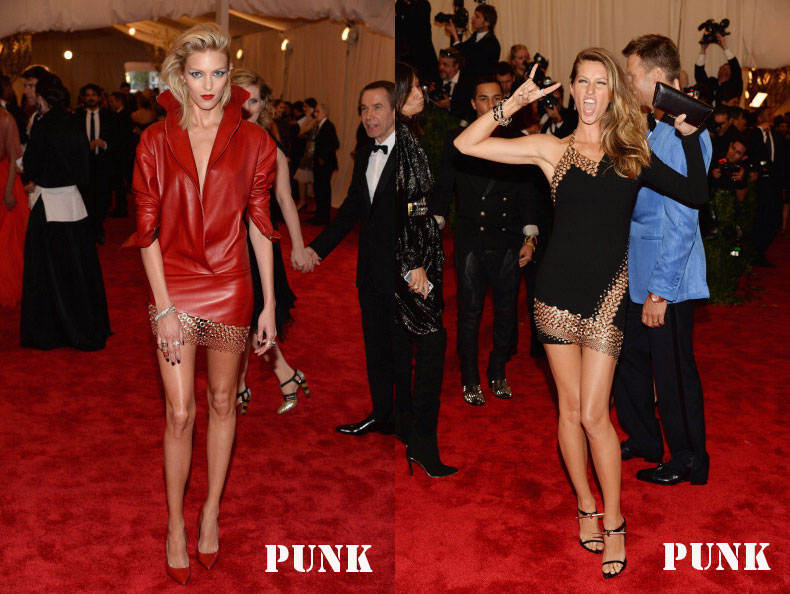 Trick question. They're both punk!
Anja Rubik, Gisele, both in Anthony Vaccarello
I was so curious to see how the supremely posh Vogue & Friends would turn out for this year's punk themed Met Ball. Some people dipped their toes in the water, while others went all out. And some people (cough, Anna Wintour) didn't even seem to try. But hey – that's their perogative, and punk certainly isn't for everybody. That's the point! What did you think of this year's Met Ball red carpet? Head over to my Facebook page to see more of my favorites.
This outfit is an unexpected study in contrasts: I'm WILD about this dress. The shoes however, I'm pretty lukewarm about. I love how they look – and I worked hard to get them – but I've never loved how they look on me – or with any of the things I own. I think their days in my wardrobe are numbered.
Dress – J. Crew (also available as a top) // Belt – J. Crew (similar) // Sandals – Surface to Air // Bracelet – Stella & Dot // Bangle – Kate Spade (similar) // Rings – vintage, Oscar de la Renta, Rocks Box // Lipstick – Givenchy Le Rouge in #307 Grenat Initié
1. Micah's fierceness knows no bounds. (Raww Blog)
2. I'm on an open-knit sweater kick right now. (Sartorialist)
3. This photo inspired me to buy these shoes (during the Saks Friends & Family sale!). I just wish they didn't feel so tight. (the SF Style)
4. I have this dress! I love it, but sadly it's too tight right now. (Blank White Frames)
5. I don't have this dress… but I would like to. Looks like a perfect spring/summer transitional dress. (Atlantic Pacific)
In San Francisco you can really never have too many jackets, and this army-green, cotton parka is the latest addition to my stable of outerwear. A few of my friends have this exact jacket, and several of my friends have something similar. It's the perfect mid-lightweight jacket that layers well and looks cool with everything. Speaking of new things, did you notice the white pumps? I ended up not going with any of these, but with a pair from Zara that a friend spotted. With a heel height just over 3 inches and coming in at $40, that might be the quickest buying decision I've ever made.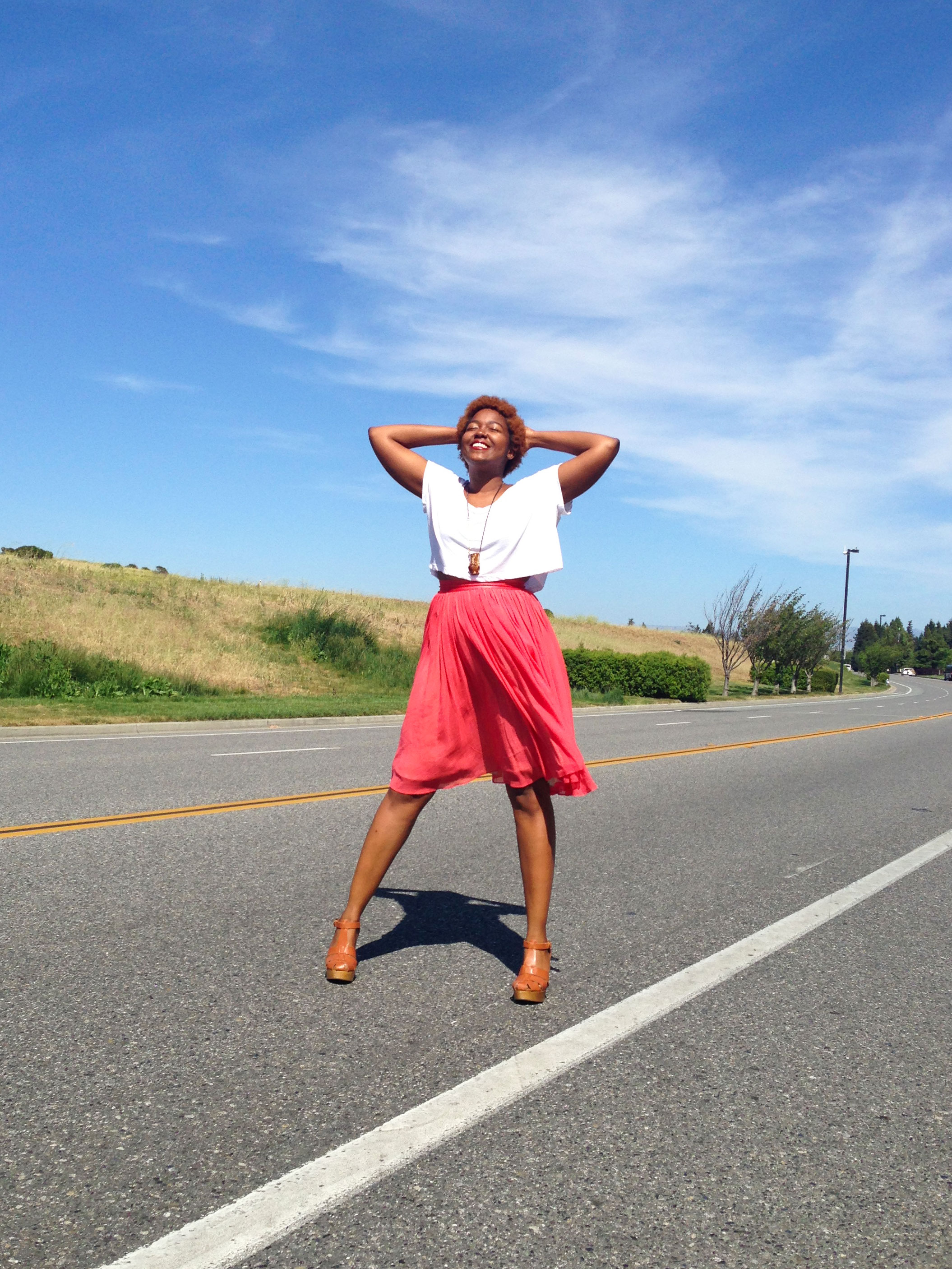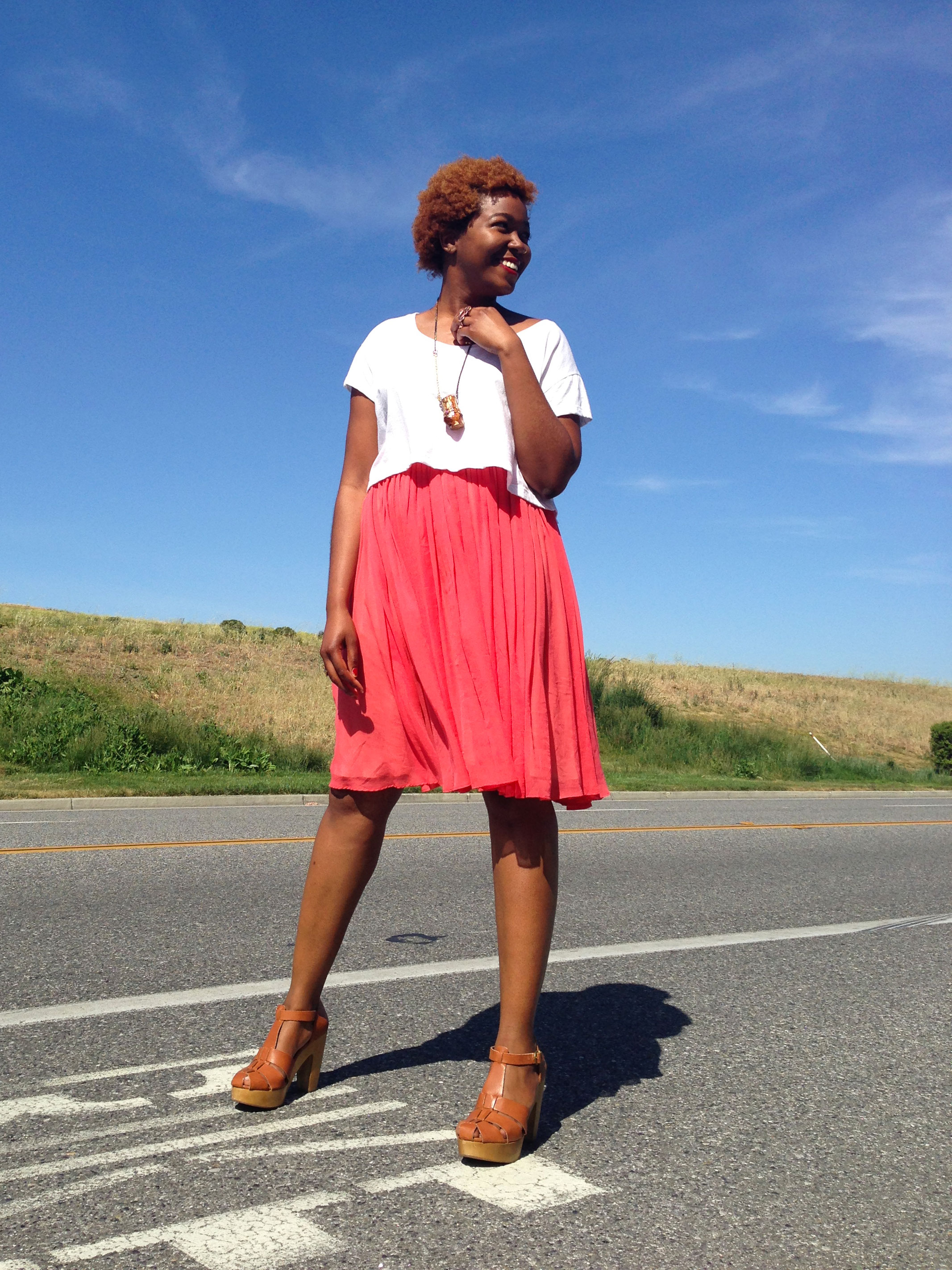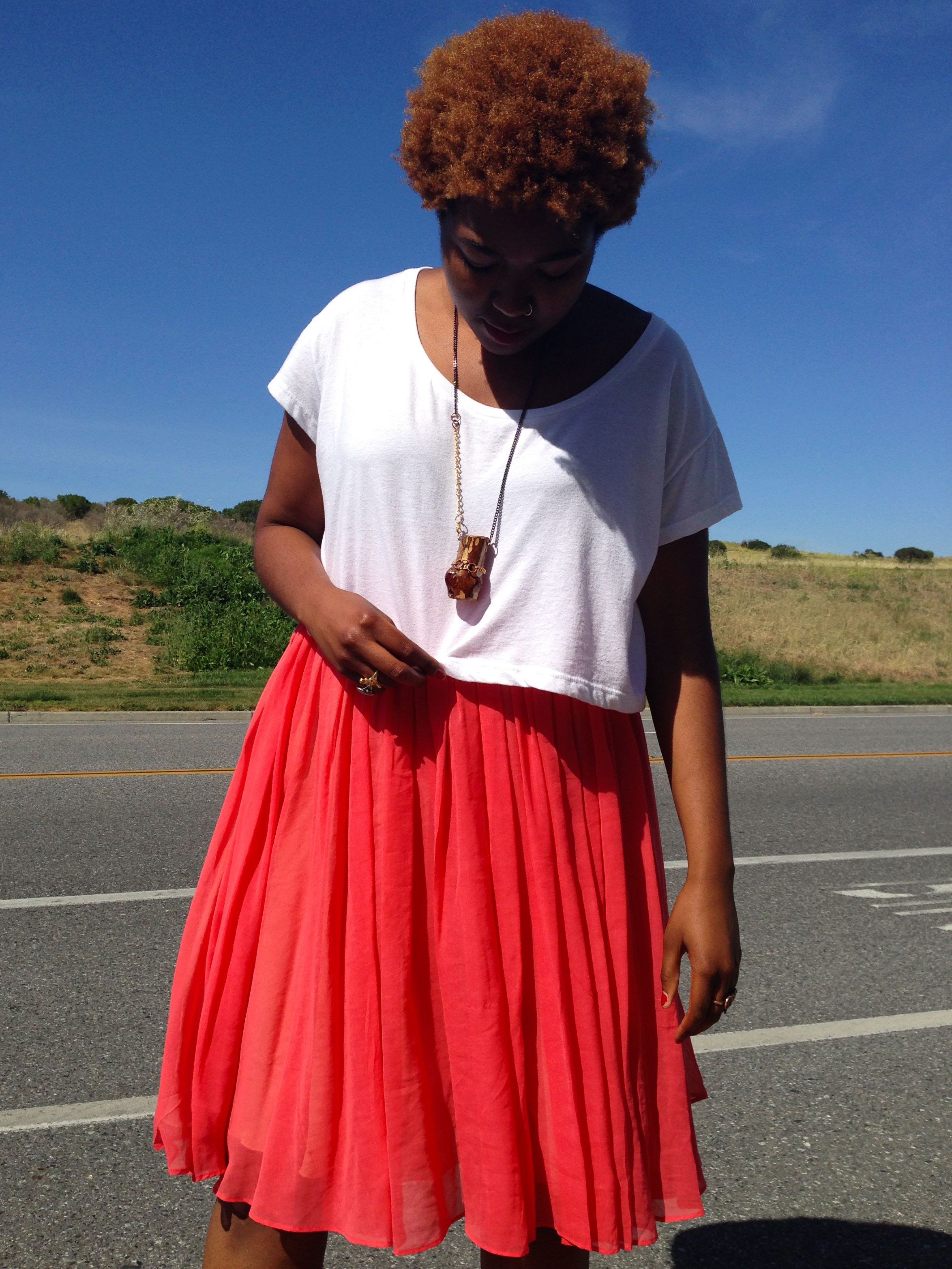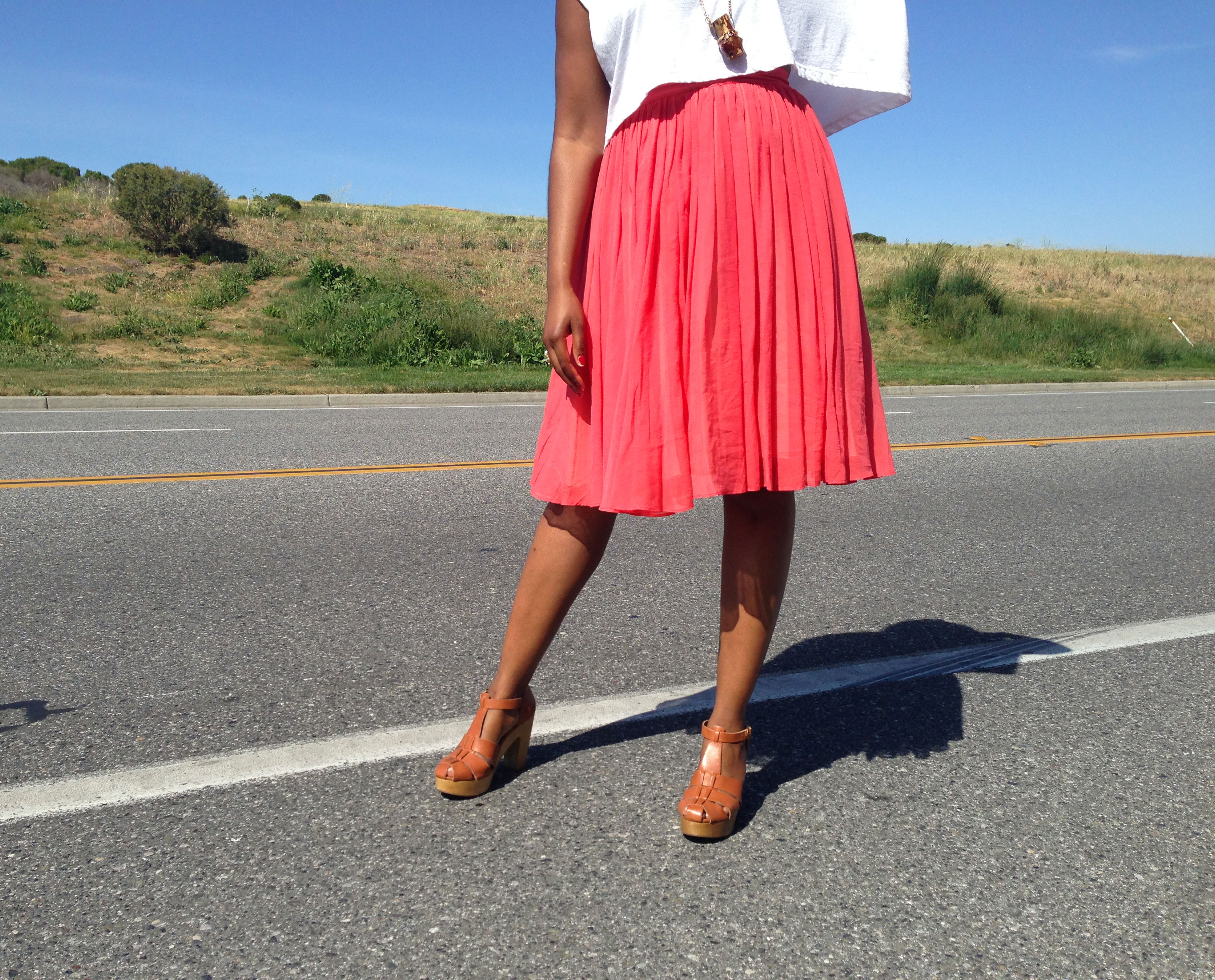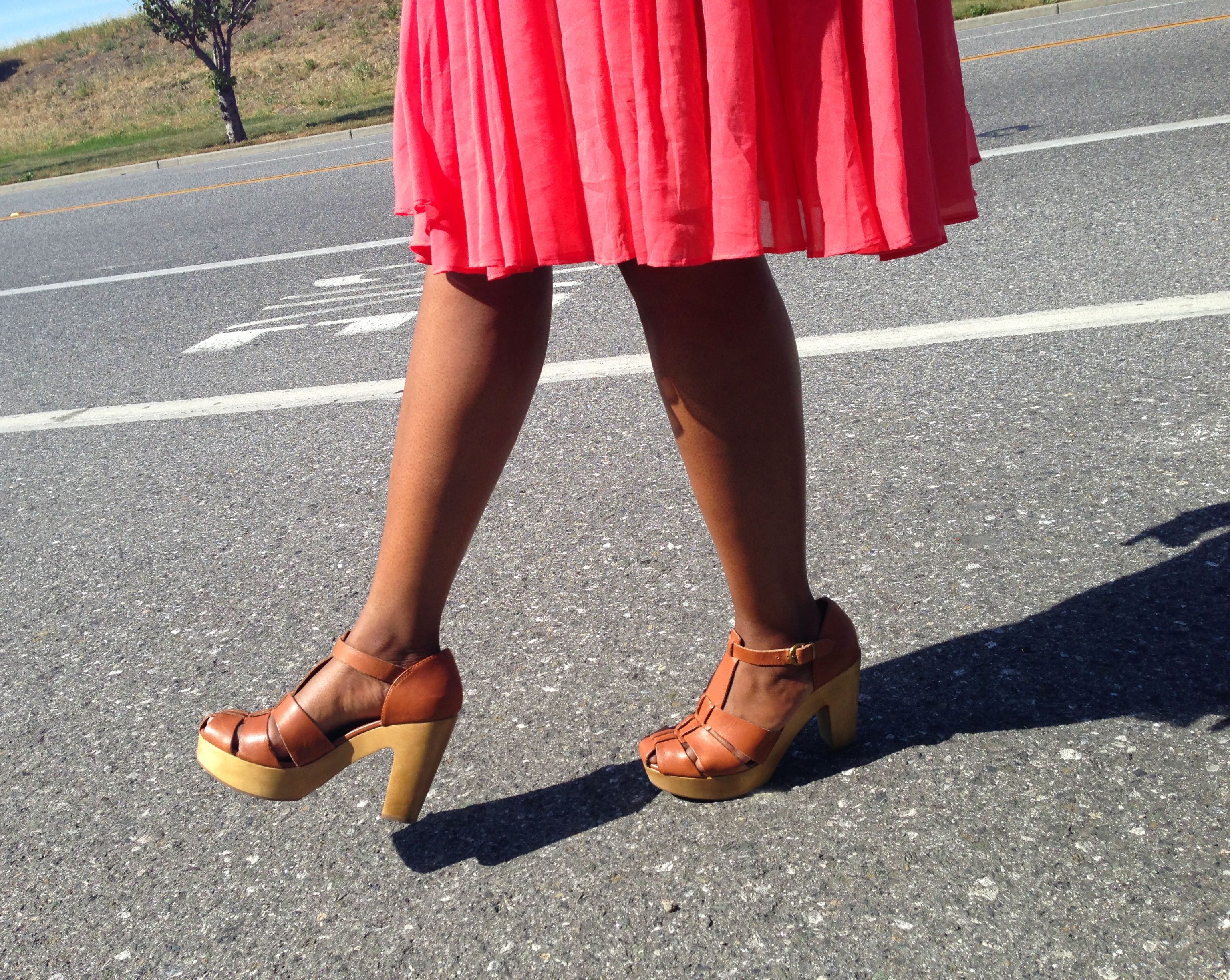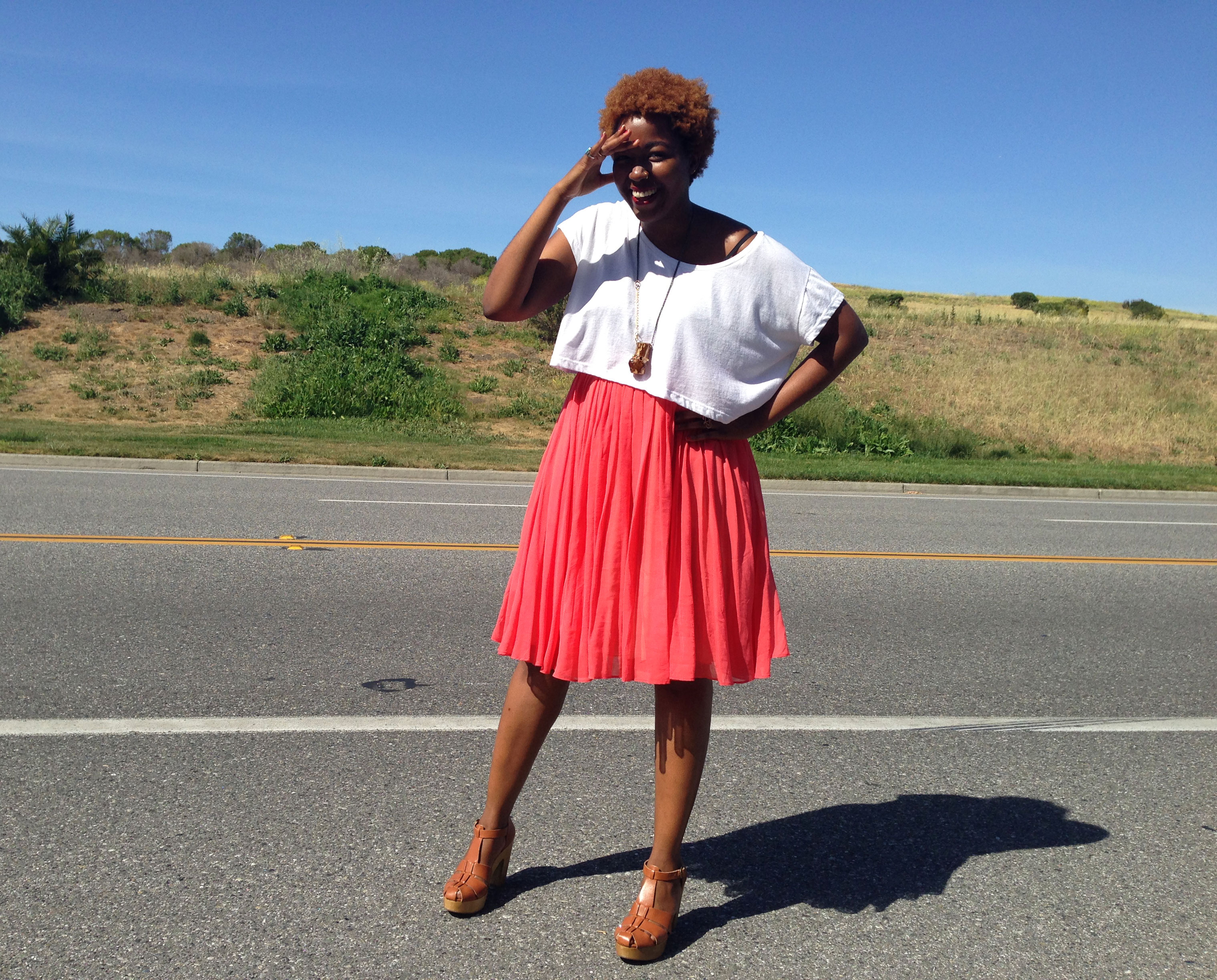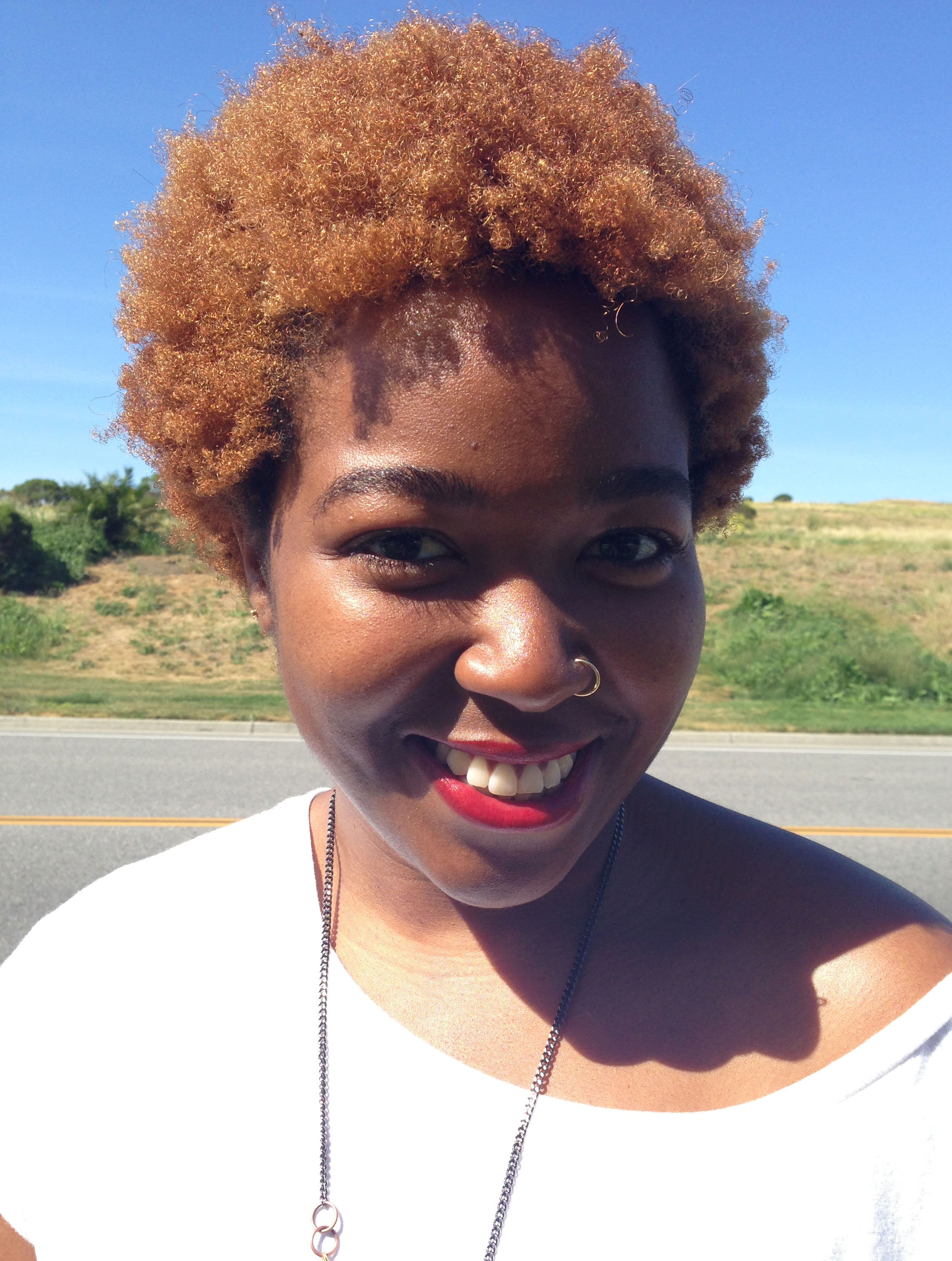 This weekend I went to American Apparel and stocked up on cropped white tees. I want this to be my new look! Basically, cropped tees over midi/maxi skirts, or regular loose tees over fitted pencil skirts. And fun shoes. I'm still in the process of paring down my wardrobe and only wearing what I truly love – as opposed to things that I think look cool, or even worse, that I feel compelled to wear just because I spent money on it. I'm in the process of researching which re-sale site is best for me, but when I get that all figured out expect a major closet dump!
OH and guess what? I switched up my nose stud for a hoop. Did that in Chicago after the Steve Harvey taping. So far I like it, except it's totally throwing me for a loop when it comes to earrings. Basically, I haven't worn any since getting it done. I used to wear hoops all the time, but it might just be studs from here on out.
Top – American Apparel // Skirt – See by Chloe (via the Outnet) // Sandals – Madewell // necklace – gift from a friend (via Anthropologie) // rings – Alice Temperly for Stella & Dot, vintage, Azil // Lipstick – Givenchy Le Rouge in #307 Grenat Initié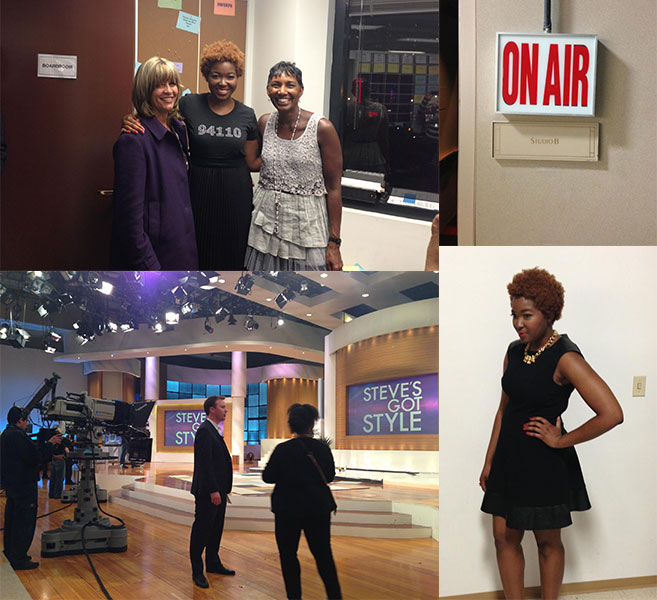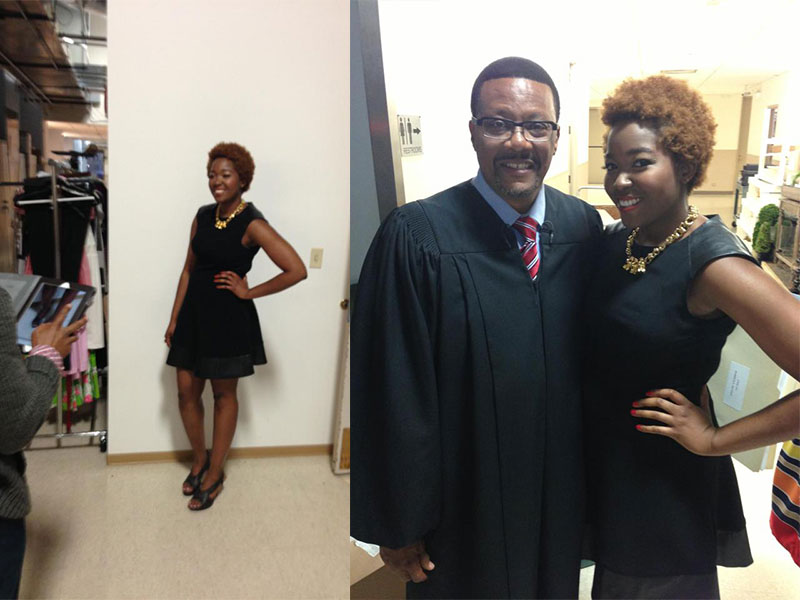 TOP: with the women who made it happen, Karen of Barefoot Tess and Ricki Fairely-Brown; on air; backstage outfit shot; rehearsal on set.
BOTTOM: backstage shoe close-up; Judge Mathis just happened to be walking by!
Soooo guess what I did last week? I flew to Chicago and taped an episode of the Steve Harvey Show! I'll back up a little: most people may not know this about me, but I have big feet. Sometimes I wear a size 10 – even bigger in some international sizes. Enter Barefoot Tess: a website that caters to women wearing shoes sizes 10-15. And Steve Harvey: a guy who's all about ALL women looking as stylish as can be, regardless of size (he has a clothing line, too). Steve Harvey invited Barefoot Tess to be on his show, and Barefoot Tess invited me! Along with eight other women, I modeled a pair of fabulous shoes that women with any size feet can wear.
A car service shuttled me from the airport to the hotel to the set, and it was so fun going through make-up and wardrobe. Plus, taping a talk show was such a cool experience! So much goes on behind the scenes that you never see when an episode airs. If you ever have the chance to be part of the studio audience – do it! It's TBD when the episode will air, but rest assured I will post when I know it!